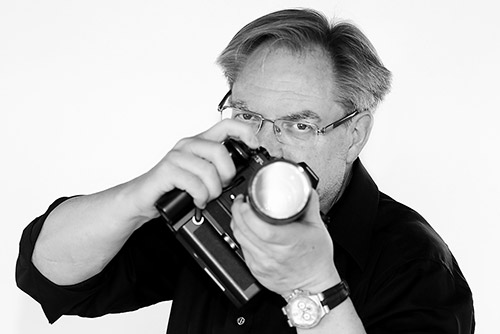 I'm just a figure on the edge of all happenings.
I'm an informant to the world and its time.
To me, immediacy and realism are the main characteristics of photography – not its ability to emphasize Art in such way as artificial allegoric pictures.
The things I photograph differ as much as the world itself: head of states gambling with a nations destiny, housewives haggling with tradesmen on the street, demonstrations and argumentations, the again peaceful sceneries, ruins of old, long lost cultures and the growth of new civilizations, far-away places, well known cities and strange but still familiar people. But also the history of my homeland: "Rheinhessen."
No path is neither too far nor too difficult for me to capture my "Pictures of Life", no matter if it is leading towards the centre of the earth or way upon it. Photographing to me means to affirm to life, with all its odds.
The decision of capturing something in a picture arises deeply inside of me, it screams: Yes, yes, yes! It is discovering the world in a visual way, it is something there will never be a conclusive answer to.
My picture is supposed to equal its motif.
My Camera collects notifications and information of highest objectivity and then again I don't see myself as an "objective time witness" but much more as an "interpreter of reality."
At the moment of happiness in consideration of the present motif I feel neither prejudice nor ulterior motives. There is no good or bad, not even in a morally way. Mankind is living the evolution itself has chosen. Nothing is good or bad about that, It is as it is!
A picture, my picture should speak for itself, the text is just the shell. Abinding the world of the French author Antoine des Saint-Exupery: "Language is the source of all misunderstandings." It is my wish to create visual thinking, not knowing any boundaries and standing for only one language beyond any cultures or time.